Current Editors:
Heather McLeod, Editor in Chief, Memorial University
Gisela Ruebsaat, Journal Editor, Independent Scholar
Announcements
Upcoming Special Issue Submissions: Art Education and the Poetic

Authors may want to consider the following questions, which we hope will provoke you to contribute to what promises to be a dynamic issue:

What is the difference between the visual artist and the poet's experience of image and what might this tell us about artistic expression and its role in the learning process?
In what ways might poetry offer valuable opportunities for teachers and students of art education to know artworks and the making of art in alternate ways?
The following notions are key to poetry: the primacy of image over narrative, the focus on experimentation with form and rhythm, the importance of the poetic line as opposed to the sentence, and the idea that the skillful use of concrete embodied language can lead to new ways of seeing and perceiving. What might this approach to language offer for art education theory and practice?
What are the ways in which a study of poetry might expand the field of art education to other pedagogies? What novel forms of art education theory and practice might emerge by taking a poetic approach? Does poetic practice suggest new imaginable futures for education and/or for fresh conceptions of the work of the art educators?
What role do the visual arts play in shaping the future direction of the literary arts and written expression in general?

Posted: 2017-12-07
More...
Vol 44, No 1 (2017)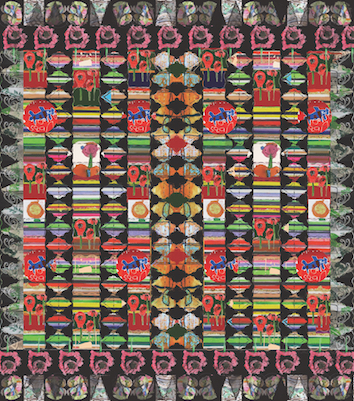 Tapestry. The image includes material from 14 early childhood centres digitally remixed by Veronica Garcia Lazo and a derivative work of Richard Laschon © 123RF.com.